Was Gavin Newsom's Response to COVID-19 Effective?
by Adhithyaa Arul Murugan Alwar, July 19, 2021
It has been about 17 months since the first COVID-19 case was recorded in the United States. Former President Donald Trump's hands-off approach resulted in the American people looking to state governors for leadership throughout the pandemic. Shortly after, approaches to handling the virus were politicized; Democrats generally advocated for more restrictions, while Republicans supported fewer COVID-19 restrictions. This article will focus on the major actions of California governor Gavin Newsom regarding the pandemic, as well as touch on what his supporters and critics have said.
The first COVID-19 case in California was confirmed on January 25th, 2020. From then onwards, a few more cases started to pop up and slowly spread across the state. On March 4th 2020, there were 55 cases and 3 deaths related to the coronavirus. In response to the rising cases, Governor Gavin Newsom declared a state emergency. Most schools closed by March 16th and Newsom issued a statewide shelter-in-place order by March 19th. Over the course of the next month, many public places such as parks, beaches, and restaurants began closing up around the state. On June 18th, 2020, Newsom mandated that all Californians must wear masks in public settings, the only exception being infants two years or younger. Failing to abide by this mask mandate could result in getting a fine of up to $1000 or 6 months of imprisonment.
On August 28th, Newsom created a 4-tier system to track covid severity in differing counties; in this system counties fall into one of 4 tiers (purple tier, red tier, orange tier, and yellow tier) that indicate what businesses can or can't be open.
Below is an image that shows the case rates that would put a county in a certain tier.
Photo: California Department of Public Health
If a county was on purple tier it meant that most 'non-essential' businesses would be closed. If a county was on red tier it meant that some 'non-essential' businesses would be closed. If a county was on the orange tier, it meant that some indoor businesses could be open with modifications. If a county is on yellow tier it means that most indoor businesses in that county could remain open with modifications.
Around the same time Newsom came up with the 4-tier system, the number of new COVID-19 cases and deaths started to trend downward in California. On September 17th, Newsom signed worker protection laws that made workers eligible for compensation benefits if they contracted COVID-19 and required businesses to tell all their employees if they have been exposed to someone who has the virus. The number of daily cases was going down till November 2020 where there was a huge spike in coronavirus cases, some of which can be attributed to the Thanksgiving holidays.
Since cases were rising during November and December, Gavin Newsom issued a statewide curfew from 10 PM to 5 AM, which was effective from November 21st to December 21st and specifically applied to all counties in the purple tier. On December 3rd, Newsom ordered a conditional lockdown, which would trigger a statewide stay-at-home order if any of the 5 regions in the state had its ICU bed capacity dip below 15%. COVID-19 cases continued to increase in December, so on December 29th, Newsom extended the stay-at-home orders in places that had them indefinitely. He later lifted stay-at-home orders on January 25th, 2021.
Newsom signed a $7.6 Billion relief bill on February 23rd, 2021 that gave $600 to over 6 million Californians and it set aside $2 Billion in relief money for small businesses. On March 1st, he offered public schools financial incentives if they started in-person instruction. On April 6th, Newsom announced that California would reopen everything by June 15th. On May 10th, Newsom proposed additional $600 COVID-19 relief checks for Californians and additional $500 checks for Californians with children. By June 15th, Newsom ended most of California's COVID-19 restrictions including mask mandates in public places but he still did not lift the state of emergency that allowed him to suspend or declare new regulations.
COVID-19 vaccines started to arrive in California in December 2020, and in 2021, the number of daily cases started to reduce as seen in the picture below.
Photo: John Hopkins Coronavirus Research Center
Reactions to Newsom's handling of COVID-19
Newsom's supporters praised him for his handling of COVID-19, citing his initial response which was quicker than most governors. They also praised him for the lower than average COVID-19 cases in the state per capita compared to other states, the 4-tier system, which eased restrictions on counties with fewer COVID-19 cases per capita and increased restrictions on counties with a lot of COVID-19 cases per capita, and the stimulus checks given to people and small businesses.
While Newsom was initially praised by most people for his response to COVID-19, criticism of his response to COVID-19 increased over time from both sides of the political aisle. Many people said that his restrictions were too strict, while others believe that he did not do enough in order to stop the spread of COVID-19.
Many people criticized the state's definition of what was and wasn't considered an essential business (for example the cannabis industry was considered an essential while churches, bars, indoor dining, and gyms were not). Critics claimed these shutdowns were strict and unnecessary as they hurt many small businesses around the state. On November 6th, Newsom was caught violating his own guidelines by attending a French Laundry dinner party with a lobbyist and 20 other people.
Below is an image Gavin Newsom eating at the French Laundry on November 6th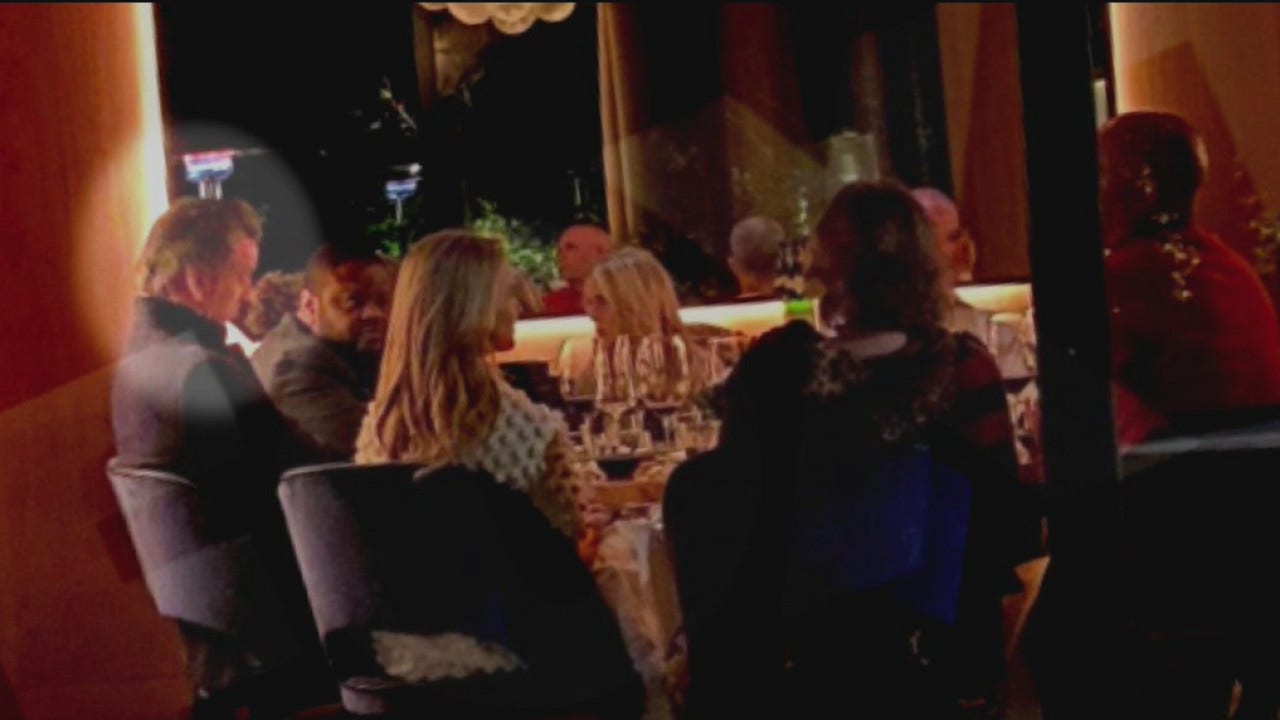 Photo: FOX 11 Los Angeles
In the weeks when Newsom strongly discouraged California residents to travel for the holidays or bring together multiple households for Thanksgiving, this picture showing Gavin Newsom attending the French Laundry spread and it drew condemnation from both Democrats and Republicans. This event helped spark the desire to recall Newsom.
To wrap it up, Newsom's COVID-19 response drew praise and condemnation, his supporters praised him saying that his restrictions reduced COVID-19 rates and that he took quick action to limit the impact of the pandemic, his critics condemned his response said that his restrictions were too strict and hurt and destroyed many small businesses. One thing is clear: His COVID-19 response will be judged by Californianas and it will play a huge factor in whether he will get recalled or not.
Sources
https://www.theatlantic.com/politics/archive/2020/05/trump-governors-coronavirus/611023/
https://calmatters.org/health/coronavirus/2021/03/timeline-california-pandemic-year-key-points/
https://calmatters.org/economy/2020/08/california-reopen-hair-salons-indoor-haircuts/
https://ktla.com/news/california/daily-california-coronavirus-cases-triple-as-pandemic-dramatically-worsens/
https://sanfrancisco.cbslocal.com/2021/06/04/gov-gavin-newsom-says-he-wont-lift-covid-19-state-of-emergency-on-june-15/
https://coronavirus.jhu.edu/region/us/california
https://www.marketwatch.com/story/california-orders-bars-indoor-dining-and-most-gyms-churches-shut-again-amid-coronavirus-surge-2020-07-13
https://mjbizdaily.com/california-gov-classifies-cannabis-industry-as-essential-during-lockdown/
https://www.foxla.com/news/fox-11-obtains-exclusive-photos-of-gov-newsom-at-french-restaurant-allegedly-not-following-covid-19-protocols